Now is the time to pass just and compassionate immigration reform

Take Action!

Send this electronic postcard your U.S. Senators and Representatives asking that they pass just and compassionate immigration reform legislation in the 113th Congress.

If you no longer wish to receive e-mail from us, please click here.


LONG ISLAND

On July 3rd, the eve of Independence Day and just hours before the Statue of Liberty reopened following Superstorm Sandy, over 50 people gathered at Our Lady of the Miraculous Medal Church in Wyandanch for the second Long Island Jobs with Justice "Stop the Deportations" vigil.


Between July 3rd and July 14th, people of faith will be participating in Good Samaritan actions to support immigration reform. Whether it is organizing a vigil much like this, or preaching on immigration reform in places of worship, we recognize the power that people of faith have in ensuring that just and humane immigration reform passes in the US House of Representatives as it recently did in the US Senate.

On Sunday, July 14th, most Christian churches will reflect on the Gospel of the Good Samaritan. This well-known Biblical story - of a despised outsider who helps a victim when his own people pass him by - is in many ways an immigrant story. We have distributed sermon notes to help Christian clergy preach about immigration reform on Good Samaritan Sunday. We are also collecting letters asking Long Island members of Congress to support interfaith principles for just immigration reform. Over 1000 of these letters have been collected already by congregations in Congressman Peter King's district.

If you would like Good Samaritan resources go to:

www.longislandjwj.org/resources/

If you would like to participate in any of these activities, contact either of these Jobs with Justice staff: Anita Halasz (ahalasz.lijwj@gmail.com) or Richard Koubek (rkmicahli@gmail.com)

Click here to unsubscribe
The Holy Illegal Alien Family
"The Church can regard no one as excluded from its motherly embrace, no one as outside the scope of its motherly care. It has no enemies except those who wish to make themselves such. Its catholicity is no idle boast. It was not for nothing that it received its mission to foster love, unity and peace among men" (Ecclesiam Suam, no. 94).

…the illegal immigrant comes before us as a stranger within whom Jesus asks to be recognized. To welcome him and to show him solidarity is a duty of hospitality and fidelity to Christian identity itself. ~ Pope John Paul II
For further information go to the following websiteshttp://www.usccb.org/mrs/unity.shtml,
************************************************************************************************************************
At the last meeting of the LIIA, the members discussed the need to address the implementation of "Secure Communities" policies on Long Island. It was agreed to have a press conference to announce a public education campaign and also to announce a plan to interrupt the Secure Communities process on a local basis.

Today's meeting concluded with a decision to postpone the press conference until June 26. It seems that the state ACLU is working on a statement based on reports from 3 states that have successfully challenged Secure Communities in their own localities. These localities have decided not to honor the detainers that are ordered by ICE. Keeping the individuals in prison is expensive. Homeland Security orders the detention but does not reimburse the locality, so they decided not to honor the detainers. To date there have been no reactions from Homeland Security .
Our Suffolk/Nassau aclu will use these case histories to persuade our own local jurisdictions to act in a similar manner.

Members expressed the need for a press conference and for the public education campaign as many immigrants are now very fearful and also without information as to their rights. Anecdotes about immigrants' experiences with law enforcement or deportation are needed for the press conference. Everyone was asked to bring supporters to the press conference.

Members also cited instances of increased ticketing activity by police for minor infractions. Ex: a homeless "bag lady" in Freeport, well recognized in the area, was sitting inside the RR station. She stood up and moved away for a few minutes, leaving her bag behind. She was given a ticket by the police.
The danger for the immigrants occurs when ticketed for something minor. Immigrants are afraid to go to court because of the threat of deportation. When they don't show up in court, then they receive another ticket on a more serious level. Also they often do not have the money to pay the fine that is imposed.
It was also mentioned that there are increased code enforcements out East during the summer season.

PCLI has made a banner for the press conference:
"The only secure community is the beloved community"

Next LIIA meeting - June 19 10 AM at Tuoro in Hauppauge.



--
Visit our website: www.paxchristilongisland.org

"WELCOMING THE STRANGER" WORKSHOPS ON THE EAST END
Our next workshop for clergy and lay leaders on how to help your congregation and community to become more welcoming of immigrants will be Wednesday, June 6, at 6 p.m. at the Queen of the Most Holy Rosary on Montauk Highway in Bridgehampton.
A similar workshop is being scheduled on the North Fork at Sacred Heart Church in Cutchogue on Depot Lane and Main Road.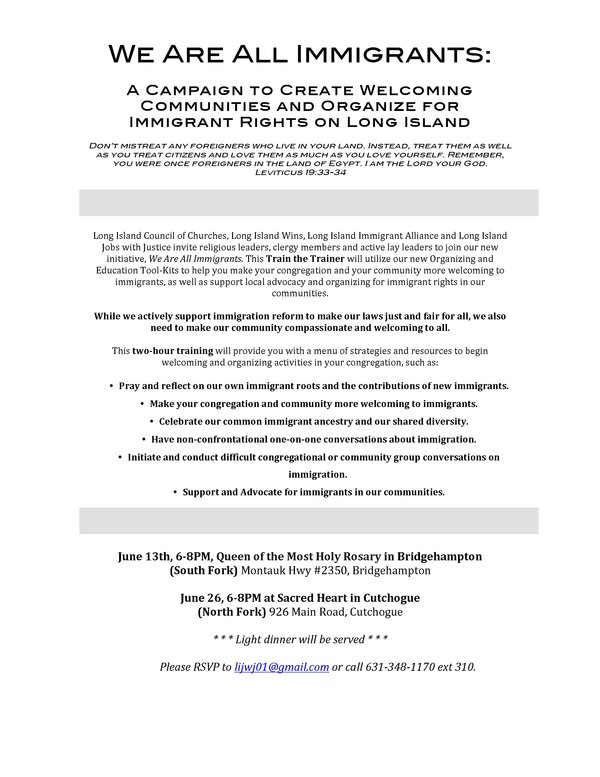 Public comment under way for proposed immigration reform
The U.S. Citizenship and Immigration Services is encouraging public input over the next 60 days on a proposed law that would allow illegal immigrants with immediate family members who are U.S. citizens to remain with their family longer while seeking permanent residency. For more information on the proposed law, go to uscis.gov. A 60-day public-comment period began Monday for a proposed policy that would allow illegal immigrants who are immediate family members of U.S. citizens to remain with their families longer while applying for permanent residency. People can submit their input on U.S. Citizenship and Immigration Services' proposal at regulations.gov through June 1. The rule would allow illegal immigrants, through a provisional waiver, to remain with their families longer if they could demonstrate that separation would pose an extreme hardship on their spouse, parents or children. The government expects the rule to reduce the financial and emotional hardship for families of illegal immigrants and also increase efficiencies in processing visas. HELP FOR IMMIGRANT WORKERS The State Department of Labor has a host of free programs designed to help immigrants break into the workforce. The New York State Department of Labor is addressing the language/employment barrier with a new program designed to help immigrants navigate the working world and learn English as well. Immigrant workforce counselors are set up at the State Labor Department's one-stop centers in the Bronx, Brooklyn, Flushing, Patchogue, Yonkers, Buffalo, Syracuse and Utica and they can provide assistance in a wide variety of languages. They also refer clients to English as a Second Language (ESL) classes. All of the Immigrant Workforce Project programs are free. For more information, visit http://www.labor.ny.gov. INTERRELIGIOUS VISITS The LICC's Dialogue Committee wants to encourage inter-denominational and inter-religious visits to houses of worship, which is one way to create communities that welcome immigrants. When Christians meet local Sikhs, Bahais, and Jains, they are reminded that not all recent immigrants are from Latin America. And Latinos often find they need a little help in understanding Long Island's astonishing religious diversity. If a picture is worth a thousand words, someone remarked once at a meeting of the Long Island Multi-Faith Forum, a visit is worth a thousand pictures. Would your church, synagogue, mosque, gurudwara, temple or fellowship welcome interfaith visitors? If so, what are good times to come and whom should we list as a contact for visits? Is there anything you would like visitors to know about where they should sit, what they should wear, and what you would prefer that they do or not do? You might also consider hosting the Forum's "Building Bridges" program or its "What's My Faith?" game show. Both are great ways to help your congregation or community group to understand your immigrant neighbors. The Rev. Thomas W. Goodhue Executive Director Long Island Council of Churches 1644 Denton Green Hempstead, NY 11550 516-565-0290 ext. 206 (voice) 516-565-0291 (fax) tomgoodhue@optonline.net http://www.liccny.org
---
---
LI Council of Churches
1644 Denton Green
Hempstead, New York 11550
US


Read the VerticalResponse marketing policy.
Correctional Association of NY Website Link
Free Prayer Cards Immigration/Refugee
Free Prayer Cards Immigration/Refugees
Please pardon if you've already received this from Senator Durbin
----- Original Message -----
Sent: Saturday, May 21, 2011 11:03 AM
Subject: DREAM
Sheila --

I'm writing you today to help me do right by some of America's most talented, hardworking, patriotic young adults -- many of whom have reached out to me directly over the years with inspiring personal stories and emotional pleas for help.

I'm talking about a select group of high school graduates who were brought to America as children -- often before they can even remember -- but who now face deportation, through no fault of their own.

These young people have been raised in America. They have sat in the classrooms of our schools and stood up every morning to give the Pledge of Allegiance to the only flag they've ever known. They have worked hard and played by the rules.

They deserve a chance to be legal, contributing members of our society -- and it's up to you and me to give them that shot.

Click here to sign on as a citizen co-sponsor of the DREAM Act that I just re-introduced in the Senate -- to give a select group of bright immigrant students the chance to contribute more fully to America.

My legislation would give students with good moral character who have lived in the U.S. for at least five years -- and came here before turning sixteen -- the chance to earn legal status after earning a high school degree and completing two years of college or military service in good standing.

It would ensure that some of our nation's honor-roll students, class valedictorians, star athletes and talented artists could continue their studies in America and become our next generation of doctors, nurses, teachers, soldiers, public servants, and more.

And it would ensure that these young people are not punished for a wrong they didn't commit. That's not the American way.

Passing the DREAM Act is simply the right thing to do. Please sign on as a citizen co-sponsor of this important legislation right now.

In recent votes, a growing majority of the Senate has supported the DREAM Act.

But we still need to pick up a few more "Yea" votes to break the filibuster, and convince obstructionist Senators it's in their political best interest -- and the country's best interest -- to stand with this select group of promising young people.

As you may know, this is an issue I'm especially passionate about. I'll keep you posted as I look for ways to advance this legislation in the Senate, and hope I can claim your support as I do.

Thank you for standing with me to do right by these young people.

Sincerely,


Dick Durbin
U.S. Senator

Paid for by Friends of Dick Durbin
----- Original Message -----

Sent: Tuesday, July 27, 2010 2:28 PM

Subject: Pray-Study-Act: National Weekend of Prayer and Action for Immigrant Justice
Pax Christi USA - Rapid Response Network


Pray-Study-Act: Immigrant Justice


Join our list

Greetings!



This coming weekend, July 29-August 1, is the

National Weekend of Prayer and Action for Immigrant Justice

, started by our friends at Interfaith Worker Justice (IWJ). Thursday, July 29 marks the day that Arizona's controversial law on immigration, SB1070, goes into effect. People of faith and immigrants rights activists all across the nation are planning prayer vigils, public protests, and other events to draw attention to this law which flaunts basic human rights and encourages racial profiling.

Please find several resources below, as well as quick links to the left, which will help you to pray, study and act on this issue. Participants at the national conference 10 days ago heard a passionate call to respect the rights of immigrants and uphold the values at the heart of our faith by keynote presenter Elena Segura. We hope you can use this opportunity to pray, study and act for justice for immigrants.


In peace,

Johnny Zokovitch
Program Director, Pax Christi USA


PRAY: A prayer for immigrants

God of the journey, God of the traveler,
We pray for those who leave their homes
in search of new beginnings and possibilities,
may they know your presence with them.
We pray that those who seek to make a home in this country
may find us welcoming and willing to help them find a path toward citizenship.
We pray that our legislators, as they craft new immigration legislation may find the wisdom and courage to enact new policies that do justice for our country
and for those who would immigrate here.
We pray for those who fan the flames of fear
and discrimination against the undocumented,
that they may be touched with your divine compassion.
We pray in Jesus' name. Amen.

(From the Archdiocese of Chicago)


STUDY: Presentation by Elena Segura at the National Catholic Conference on Peacemaking


Elena Segura is the director of the Office for Immigrant Affairs and Immigrant Education of the Archdiocese of Chicago. She delivered the following keynote presentation at the National Catholic Conference on Peacemaking, July 17, 2010. An excerpt is below with a link to the full speech.



... To you folks of Pax Christi, peacemakers, I don't have to talk about why immigrants come to this country. Or the popular phrase that anti-immigrant groups use: "What part of illegal don't you understand?" When this phrase is being shouted in my ears by some Catholics who call my office to complain about the stand of the Church towards immigration reform, I always take this time as an opportunity to listen to the fear, the rage, and to pray on the spot for this person and his/her family and the group he/she represents. (By the way, an anti-immigrant Catholic is a contradiction of terms to me). I do have an altar where I add names of anti-immigrants. I'm asking God to teach me how to love these brothers and sisters whose hearts still need to be opened. So in response to the question, "what part of illegal don't you understand?", we should understand that the action might be illegal (people are forced to break a law that is already broken), the status might be illegal, but not the person.

To read Ms. Segura's full speech, click here.

ACT: Take action this weekend, July 29-Aug. 1; IWJ resource toolkit & a letter-writing action




Our good friends at Interfaith Worker Justice (IWJ) have provided an excellent resource toolkit, "Immigration through the Lens of Faith: A Toolkit for Prayer and Action," for groups or individuals interested in participating in the National Weekend of Prayer and Action for Immigrant Justice. It is a FREE download.

Click here for more information on the toolkit, how to register your action, find a vigil or event near you, and download the toolkit.

During the 2010 National Catholic Conference on Peacemaking in Chicago, we asked conference participants to commit to writing a letter to their Congressional Representative and Senators on the need to pass Comprehensive Immigration Reform this year. We cannot afford to let our voices be silent as millions of our immigrant brothers and sisters suffer under the draconian laws of Arizona and the malaise of the federal government.

To participate in this letter-writing action, click here.

Pax Christi USA | 532 West Eighth Street | Erie | PA | 16502
**************************************************************************************
LI mirrors national trend in Latino population growth
Long Island mirrors a national trend showing modest gains in the Hispanic population from 2008 to 2009, a growth that has helped propel an overall increase of minorities nationwide and locally, according to U.S. Census Bureau population estimates released Thursday.
"Increase in diversity . . . [particularly among] the Hispanic and Asian populations" is the story in New York, said Robert Scardamaglia, director of the Center for Research and Information Analysis at the State Data Center. "New York continues to age and become a more diverse state."
The story is much the same for Long Island, said Seth Forman, chief planner for the Long Island Regional Planning Council. Noting the Hispanic increase, he said, "Half of our immigration flow is from Central America, through Mexico. It's people who have networks with people who have established themselves [here]."
There could be a slowing of immigration in 2010, Forman predicted, because of the stagnant economy the 2009 estimates might not fully reflect. "When there's fewer jobs, people come at a slower rate," he said.
Still, Forman said the percentage of Hispanics on Long Island may not fall "because they tend to have higher birthrates."
The Hispanic population "remains the largest and fastest growing minority group" in the nation, said Robert Bernstein, a bureau spokesman. The bureau said Hispanics comprised 15.8 percent of the nation's estimated 307 million people in 2009, up from 15.4 percent in 2008. On Long Island, Hispanics comprised nearly 13.5 percent of the population in 2009, up from 13 percent a year earlier.
Of the nation's 3,143 counties, Bernstein said the percent of the Hispanic population in Suffolk was the 40th largest, and Nassau's was the 47th largest. (The Bronx ranked 12th and Queens, 14th.) Nassau, Suffolk and New York City's boroughs also constitute some of the most populous counties in the country.
"The minority population [nationwide] . . . grew 2.2 percent from 2008 to 2009," Bernstein said. "They now make up 34.9 percent [107.2 million] of the total population."
Locally, minorities comprised 31.9 percent of Nassau's population in 2009, a 3.7 percent increase from 2008, and 25.7 percent of Suffolk's, a 2.8 percent increase, Bernstein said.
Among the nation's counties, Nassau's minority population ranks 46th and Suffolk's is 55th.
The bureau's 2009 estimates are the last to use the 2000 census as a base, updated with records on births, deaths and domestic and international migration. The 2010 census county results are to be released next year.
---
LI BREAKING NEWS: Get email or text alerts | Friend us on Facebook | Follow us on Twitter | Send in news tips or photos
NOTABLE STORIES: LI man raided in Times Square case: FBI apologizes | Man who killed girlfriend gets life sentence | Dozens more LI stories
----- Original Message -----

Sent: Thursday, April 29, 2010 5:14 PM

Subject: Do I look Illegal?
| | | |
| --- | --- | --- |
| | | |

Dear joseph,

It is racial persecution. It is institutionalized discrimination. It is a direct and blatant attack on the Latino community. The bill signed into law this week by Arizona Gov. Jan Brewer is a major setback in the fight for equality and civil rights.

Your appearance, your clothes, your language, your location, your activities or anything that may trigger suspicion is now grounds for detention. So in response to this heinous bill, we decided to send the Arizona governor and the state legislature a challenge: Answer this question - Do I Look "Illegal"?

Latino or not, let us stand together and fight back against these forces of racism. We have produced T-shirts to tell the Arizona government that we will not stand idle as they trump the basic civil rights of any minority.

Your contribution of $15 will not only get you one of the T-Shirts but will also allow Brave New Foundation's Cuéntame to produce a series of videos and actions that will expose the Arizona government for their attempt to institutionalize a Latino persecution.



We have also launched a pledge to boycott the state of Arizona until this law is stricken down. Sign the petition today and tell Arizona that you boycott intolerance and persecution.

We are fed up and are ready to fight back! Are you with us?

¡Hasta Pronto!

Axel Caballero, Ofelia Yañez
and the Cuéntame team

If you haven't already, please become a Cuéntame connection by clicking the LIKE button on top of the page. Building strong numbers is the most effective way to push back against this unjust law.
To modify your email preferences or to unsubscribe,
click here
How You Can Stop Racist Border Laws

Arizona Gov. Jan Brewer has signed into law the most racist and anti-immigrant law in the country, SB1070. The

Alliance for Global Justice

(which has a Tucson, Arizona office) joins the call for a boycott of Arizona until the law is repealed. We further demand that the federal government not cooperate with the legislation.

How You Can Stop Racist Border Laws:

1)

Contact the White House

with this message by

email

, reach them at their comments line: 202-456-1111, their switchboard line: 202-456-1414 or by FAX: 202-456-2461.

I demand that the federal government not cooperate with Arizona's racist and anti-immigrant law, SB1070. Immigration law is federal law, and it is not the duty of states to decide who has rights and who does not. The law gives police the authority to detain anyone they suspect of being an undocumented immigrant. In Arizona, this means anyone who is Latino and/or Spanish speaking is a potential suspect--and that is racial profiling. I demand that the Federal government not accept or process detainees arrested or cases carried out as a part of this law. I also demand an immediate halt to any more Memorandums of Understanding between the Department of Homeland Security and state law enforcement anywhere.

2) Boycott Arizona until SB1070 is repealed! There are three components to this boycott:

· Do not attend and do not hold any conventions or conferences in the state of Arizona;

· Do not take vacations in Arizona or support its tourist industry (The following are exempt: visits to family and close friends or to participate in immigrant rights solidarity activities. While visiting, AFGJ suggest you still not participate in official tourism);

· Do not patronize the Arizona Diamondbacks baseball team, a prominent symbol of Arizona and a major contributor to SB1070 supporters.

BACKGROUND INFORMATION:

Arizona Governor Jan Brewer signed into law on Friday, April 23rd the most racist and repressive anti-immigrant law in the nation, SB1070. SB1070 codifies the practice of racial profiling giving local and state police the authority investigate anyone they suspect of being in the US without documentation. In Arizona, this means anyone who is brown and/or speaks Spanish is "suspect". To comply with the law, anyone, citizen or not, must have legal identification on their person at all times. The penalty just for not having identification with you is arrest and a fine of up to $500. Because of the similarities to the hated Passbook Laws of segregated South Africa, many are calling this a new system of Arizona Apartheid. SB1070 allows citizens to sue government institutions for not enforcing the law aggressively enough and prohibits churches from providing sanctuary or cities and towns from instructing their police to not enforce immigration law.

Arizona is leading the country down a dangerous and destructive path of racism. Already, several other states have expressed interest in passing copycat legislation.

Arizona Representative Raúl Grijalva has sent a letter to President Obama calling for him to use his "authority to limit [federal] cooperation with Arizona officials in their enforcement of SB1070." Also included is a request that there be no more Memorandums of Understanding between the Department of Homeland Security and state law enforcement, adding that agreements like these "have been subject to serious concerns as local law enforcement agencies have used the new power to target communities of color, including a disproportionate number of Latinos for arrest." At an April 24 rally at his Tucson office, Rep. Grijalva pointed out that immigration law is a federal, not a state matter, saying "This is a national embarrassment, a Pandora's box. Jan Brewer has opened a Pandora's Box that says the state has unilateral rights to say who his rights and who doesn't. We have insisted on non-cooperation by the Federal government with this law."

There have been varied calls for a boycott of Arizona, but most have to do with three basic components: 1. No conventions or conferences in Arizona (this is what Rep. Grijalva has called for); 2. No tourism-don't come to Arizona unless you have specific friends and family to visit or immigrant rights solidarity projects to participate in; 3) Boycott the Arizona Diamondbacks, a very visible symbol of Arizona and a team that has contributed heavily to Arizona Republicans and supporters of SB1070. AFGJ asked prominent immigrant rights lawyer and founder of the Coalición de Derechos Humanos, Isabel Garcia, about which of the three components of the boycott should be honored. Her response: "Yes, all of that! Do not spend your money in Arizona!"

WE ARE ALL ARIZONANS!




************************************************************
The Catholic bishops renew our appeal to provide equity for legal immigrants in access to health care. This can be accomplished, in part, by repealing the five-year ban for legal immigrants to access Medicaid; repealing the applicability of "sponsor-deeming" for Medicaid and CHIP; and ensuring that pregnant women in the United States, who will be giving birth to children who are United States citizens, are eligible along with their unborn children for health care regardless of their immigration status. Immigrants pay the same taxes as citizens and their health needs cannot be ignored. Leaving them outside a reformed system is both unfair and unwise. ~ US Conference of Catholic Bishops

******************************************************************************
A clear message as the attacks continue
Want to do somwething that will make a difference.

Ask your Pastor to put this poster up, ask your store manager,& why not put one in your window. Click on LI Wins or the picture for a copy or print it out.
*******************************************************************************************
The detention of hundreds of thousands of immigrants every year in the United States represents a violation of human rights, Amnesty International USA said in a report on Wednesday. On an average day, the rights group said, more than 30,000 immigrants are in detention facilities. That's triple the number that were in custody a decade ago, according to Amnesty's report "Jailed Without Justice: Immigration Detention in the USA." "America should be outraged by the scale of human rights abuses occurring within its own borders," said Larry Cox, director of Amnesty International USA.
***********************************************
IF YOU WANT TO HELP CONTACT
Luis Valenzuela,
Executive Director
Long Island Immigrant Alliance
Long Island Immigrant Alliance
143 Schleigel Blvd.,
Amityville, NY 11701
631 789-0720
immigrationalliance@yahoo.com
****************************************
Adelphi study says immigrants boost LI economy
BY DAVE MARCUS | dave.marcus@newsday.com
October 20, 2008
Immigrants contribute $10.6 billion a year to Long Island's economy by increasing productivity, generating new business and paying taxes, according to a study to be released today by Adelphi University's Center for Social Innovation.

While many Long Islanders have said that immigrants drain government resources, the study says they contribute $2,305 more per person in taxes and government fees than they use in schools, health care and law enforcement. It found that spending by immigrants - those who are legal residents as well as those who are undocumented - leads to creation of about 82,000 jobs a year.

Funded by the Hagedorn Foundation in Port Washington, the study is believed to be the first in-depth look at the economic impact of immigrants from all nationalities on Long Island. The author, Mariano Torras, is a professor of economics at Adelphi University and a fellow at the University of Notre Dame's Institute for Latino Studies. He analyzed census figures beginning in 1980, government budgets and other data.



Contradicting the critics



While the report doesn't mention those who have been critical of illegal immigrants, it does seek to contradict their arguments. One goal of the Hagedorn Foundation is reduction of tensions between established residents and immigrants.

"The results should blunt these criticisms," Torras said yesterday, "but I'm also aware of the realities that in these kinds of political economic controversies both sides have their minds made up and find reasons to discredit findings they don't agree with."

Rep. Peter King (R-Seaford), who had not seen the report yesterday, said he has read some nationwide reports emphasizing the economic benefits of undocumented immigrants and other reports emphasizing the costs. "But economics aside, from the security and the social points of view, we have to control who is in the country. This country has to get control of its border."



Reshaping the Island

The study also shows how immigrants are reshaping the face of Long Island. As older residents moved away or died and their children settled elsewhere in the past 2 1/2 decades, the Island would have lost population if not for immigrants, Torras found.

Among other findings about Long Island:

The immigrant population more than doubled since 1980 to just over 465,000 residents. Immigrants now make up 16 percent of the general population.

More than 85 percent of immigrants who arrived here before 1980 are now U.S. citizens.

More than half of all immigrants arriving since 2000 are from Latin America. El Salvador contributes by far the most immigrants to Long Island - more than 44,000.

As of 2000, almost 70 percent of the Island's Asians were born outside the United States.

Hempstead, Freeport, and Elmont in Nassau County and Brentwood in Suffolk are by far the Island's four largest immigrant communities and home to more than 13 percent of the immigrants.

More than 46 percent of Long Island's immigrants are in the "prime working age" category of 18 to 44, compared with less than one-third of the rest of the population.

All immigrant groups contribute more in taxes and government fees than they use in services, or what economists call a "net benefit." The extent varies widely: Asians contributed a net benefit of $3,249 per person in 2006; non-Hispanic white immigrants contributed $4,059; Hispanic immigrants, $842; and black immigrants, $789.

Get breaking news | Most popular stories | Dining and Travel deals all via e-mail!
Our Lady of Guadalupe Liturgy for Immigrants
We are one human family, whatever our national, racial, ethnic, economic, and ideological differences. We are our brothers' and sisters' keepers, wherever they may be. Loving our neighbor has global dimensions and requires us to eradicate racism and address the extreme poverty and disease plaguing so much of the world. Solidarity also includes the Scriptural call to welcome the stranger among us - including immigrants seeking work, a safe home, education for their children, and a decent life for their families. ~Faithful cITIZENSHIP USCCB

*************************************************
UNA JORNADA DE ESPERANZA
Desde su fundación, Los Estados Unidos han recibido inmigrantes de todo el mundo, quienes han encontrado oportunidades y refugio seguro en una nueva tierra. El trabajo, los valores y la creencia de inmigrantes de todo el mundo han transformado a Los Estados Unidos de ser un grupo de colonias, a convertirse en una de las principales democracias en el mundo actual. Desde su fundación al día de hoy, Los Estados Unidos siguen siendo una nación de inmigrantes basada en la firme creencia que los recién llegados ofrecen energía nueva, esperanza y diversidad cultural.

Nuestra fe común en Jesucristo nos lleva a la búsqueda de alternativas que favorecen a un espíritu de solidaridad. Es una fe que supera fronteras y nos hace vencer todas las formas de discriminación y violencia para que podamos construir relaciones de justicia y de amor.
Pope Benedict XVI urged the nation's Roman Catholic bishops and cardinals ......to support new immigrants to the United States. "I want to encourage you and your communities to continue to welcome the immigrants who join your ranks today, to share their joys and hopes, to support them in their sorrows and trials and to help them flourish in their new home," the pope said during a prayer service at the Basilica of the National Shrine of the Immaculate Conception.
Meditation
PAX CHRISTI
…..REFLECTING PEACE & JUSTICE
…when there are just reasons in favor of it, a person must be permitted to emigrate to other countries and take up residence there. The fact that he is a citizen of a particular state does not deprive him of membership in the human family…Pacem in Terris, Pope JohnXXIII
…the illegal immigrant comes before us as a stranger within whom Jesus asks to be recognized. To welcome him and to show him solidarity is a duty of hospitality and fidelity to Christian identity itself. ~ Pope John Paul II ************************************************************************